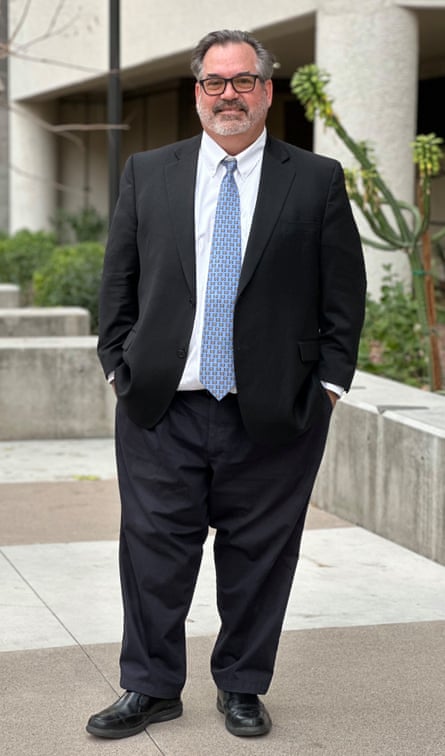 'I see things now that I've never seen before': the Maricopa county attorney fighting false election claims | US news
Down the hall from Tom Liddy's office in downtown Phoenix, a whiteboard tracks all the election law cases filed against Maricopa county, where he works as civil division chief. Liddy has defended the county against dozens of claims, including that the 2020 election was stolen and that only hand-counted ballots can be trusted.
In his office, he keeps ammunition in a safe to protect himself should a threat, which have become more frequent, become reality at work. At his desk, he's surrounded by photos of his family, who have also become a target.
Liddy is the son of G Gordon Liddy, the longtime political operative who was sentenced to prison for his role in the Watergate scandal. The 15-year veteran of the Maricopa county attorney's office has run for Congress, hosted a conservative radio show, and defended the county in high-profile trials, including a racial profiling case that became a national flashpoint.
The lifelong Republican, who calls himself a "student of politics", still maintains his conservative principles, despite the pushback from members of his own party who have sued the county and made him a central character in their attacks. Before his work at the county, he worked as an attorney for the Republican National Committee.
In recent years, he's seen more cases based on flimsier facts. A barrage of suits after the 2022 election, when Democrats won key statewide races, contended that that year's election was stolen as well. The county has succeeded in the courts – though it has come at a political cost for the largely Republican elected officials who run the county.
As a result of his work defending Maricopa county, Liddy became the subject of a leaked video shared on social media by allies of Kari Lake, the failed Republican candidate for Arizona governor, which he says led to death threats. The FBI recently filed charges against a Texas man who threatened Liddy and his children.
Known for his fiery comments and strongly worded legal letters, Liddy isn't one to shy away from a fight.
"I would hope that my friends would have kind things to say about me and the people who crossed me would be still pissed off about it," he said.
The Guardian spoke to Liddy about the rise in election lawsuits and how he's protecting his family from violent threats against them.
This interview has been edited for length and clarity.
There were even more post-election lawsuits after the 2022 election than in 2020. Why do you think that is?
In 2020, we saw a lot of lawsuits filed that would never have been filed before. I think it opened up the eyes of a lot of people. 'Hey, you can contest these elections more often than if you just lose by 510 votes.' What's different is when you lose by more than a little bit, and you sue not to canvass or re-canvass or recount or contest, but just throw the spaghetti on the wall and see what sticks.
What we're seeing now, which I never saw before, is folks not just contesting the election, but rather demonizing county officials or state officials or entrepreneurs who are in the business of creating voting systems or voting machines. Prior to the end of the cold war, the Soviets were trying to convince the world that our system of government was no good and was no better than theirs. And now, I think that there are folks in this country that are starting to feel that way, or at least, trying to persuade others of that. I see things now that I've never seen before.
In a few of the election lawsuits in 2022, Maricopa county asked for lawyers' fees or sanctions – a rare move. What's the thought process there?
When lawyers go into the court, be it a state court or federal court, you may only bring facts forward and you're obligated to do an investigation to determine that the facts that you're getting ready to present to the court are true. We've been hearing a lot of stuff in 2020, 2021 and 2022 said in court that are not true. If somebody goes into court and says something that's not true, egregiously so, the court has the power to call them on it.
When we asked for sanctions, we got sanctions in federal court. The plaintiffs went in and said, 'The elections Maricopa county is running are unconstitutional because they don't use paper ballots.' What? How can you say we don't use paper ballots? The plaintiffs were two individuals that were running for office at the time. Each had voted for themselves on paper ballots for at least the last 10 years. So we asked for sanctions.
I think the courts have a responsibility as well. We are a nation of laws. We adjudicate our differences peacefully in court. You can't do it by lying to the judge or lying to the jury. If you think that's the right way to do it, then you're a Pino: Patriot In Name Only.
Candidates have filed lawsuits over their losses even when the margins were wide. You mentioned two candidates, Mark Finchem and Kari Lake, who tried to outlaw tabulation machines. Can you seek sanctions against the plaintiffs themselves or is that atypical?
Atypical, but there is a method to do it. Generally, sanctions are against the attorneys, not just because they should know better, but they must know better. It's their obligation. There are rules of the court and rules of civil procedure. One of the rules is that if you make claims before court, you have to do at least a basic investigation to ensure that those facts are true. You can't just be hired by a plaintiff, the plaintiff says, 'up is down, down is up, black is white, white is black,' and you write it in your brief and tell the court. The standards are not that high, but we've been hearing some things that aren't even close to true in some of these lawsuits for three years. Somebody's got to stop it. The courts have an obligation, in my view.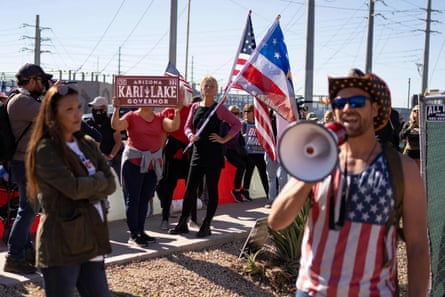 Are you still a Republican?
Oh, yeah.
Most of the people filing these egregious lawsuits are Republicans. Has this affected how you see your politics or your beliefs?
No. I've been a Republican since long before I could vote. One of the proudest days of my life was my 18th birthday when I went and registered to vote. I'm a real Republican and I will not change. I will be when they bury me. Now, other folks that come in here and claim to be Republican or claim to be conservative, they don't even know what conservative is, really. I not only want smaller government, lower taxes, more personal responsibility, greater protections for the private ownership of firearms, I'm pro-life. Being a Republican and being a Democrat has never really been about being for one candidate. It's always been for a basket of ideas.
But that's me, Tom Liddy the person, speaking, not Tom Liddy the government lawyer. My political beliefs don't influence what I do. I defend my clients and my client is Maricopa county. I'm happy and pleased to do that. I think it would be an abuse of the public trust to hijack government power to benefit one party or the other. I just would never do that.
How much does it cost the county to defend itself against these lawsuits? You mentioned that before the 2020 election, you helped the county bolster its election law team, increasing from one specialized lawyer to about eight people who dedicate at least some of their time on elections. It seems like it's been expensive.
No doubt that it's expensive. I don't have that figure. The real expense, much, much larger than just the legal expenses, is the time that the county employees, be they in the recorder's office or in the elections office or support of the board of supervisors, have to put into it, because normally they're doing the government's business. My salary is what my salary is, whether I'm in court duking it out with somebody defending the county or not. These other folks have jobs to do. So you've got to ask yourself what they could have done that they weren't able to do. The dollars and cents is a lot but I think the opportunity cost is much, much higher.
The video that captured your phone conversation with the Lake campaign …
[Interrupts] Captured 2min and 8sec of a 12-minute phone call.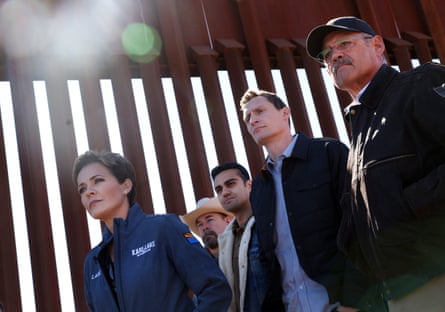 The video showed a heated conversation between you and lawyers for Lake and the Republican National Committee. It was posted online and spread among rightwing channels to imply you weren't being helpful or transparent with the attorneys. Has something like that happened to you before?
That's an ethical violation for a lawyer to tape a conversation with another lawyer without telling the lawyer. So somebody put that on the internet and said that a Kari Lake campaign volunteer called me – that's not true. I called a lawyer who was working for the Lake campaign and other candidates. We had many phone calls a day leading up to that. One of the other lawyers there was – and I didn't know at the time – a lawyer for the Republican National Committee. After we'd had a conversation and they had asked me maybe three or four questions, I said, 'let me go get the answers for you.' And then this other guy came on the line and said, 'Now it's really important that we get these questions answered quickly … because there's a lot of angry people out there that want to take to the streets, and I don't want to have to tell them that Tom Liddy has not been cooperative.'
I said, 'That sounds like a threat.' I said, 'Tell them whatever you want to tell them, but if you're not happy working with me, then don't work with me, don't call me, don't ask me questions. But don't think for a minute you could intimidate me, because you cannot, and you can't intimidate Maricopa county, either.' I admit I used colorful language. It was recorded, and they took only the last two minutes and put it out on the internet.
Since then, I've been getting death threats. One of those death threats is very real, very specific. The Dallas field office of the FBI notified me of it. The FBI came in and met with my employer and my employer told me to arm myself and that the ammunition I had was not the correct ammunition. They issued me this [pulls out a box of bullets from a safe in his office] – that's a hollow point. That's a man-stopper. They issued me and my four children body armor, because this son of a bitch from Texas specifically threatened to kill my four children.
The Texas man who made those threats was just charged recently, right?
Arrested and denied bail in Lubbock, Texas. That's the one who threatened to kill my four children, but there are plenty others that were not specific. That makes it difficult for my family to enjoy Thanksgiving, when I've got 24-hours-a-day armed security around my home, cameras all over my home and body armor for my kids, and I gotta pack iron everywhere I go. Listen, I'm a second amendment guy – I got plenty to protect myself, all sorts of different calibers. Come at me from up close or far away, I'm prepared. But that's not how you want to live. That's not how you want to celebrate Christmas and Thanksgiving. So this guy was arrested I think shortly after Christmas, but that's what my family had to deal with.
Did it give you any sense of relief when he was arrested?
Definitely a sense of relief, but also just happiness that the system works, somebody's going to pay the piper. Now, he's entitled to defense counsel, he's entitled to a trial, a jury of his peers. I'm looking forward to flying to Texas to testify against him. I'll be happy to do it because that's the way the system works.
Do you still have security at your home?
I'm not going to comment on that. This office will provide me whatever my family needs to keep us safe. I will say, the threat level has changed since this guy was not only arrested, but denied bail. But there are still security at my home, and we still have body armor, and I still carry a firearm with me.
Is it accurate to say that this was not happening before the past couple of years? Or have you experienced similar levels of threats at other times in your career?
I have experienced levels of threats before in my career, but nowhere near this volume. This is the only time that the FBI contacted me.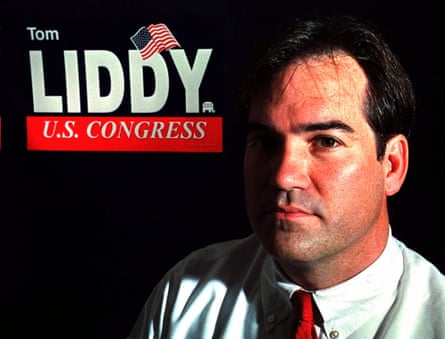 Elections have become so polarized, with threats against elections officials and lawyers like yourself and endless lawsuits after a candidate loses. What gets us out of this situation as a country?
I would say the same thing that got us out of previous problems that we've had. Sometimes the troublemakers are either held responsible, or they fade away, or they disappear in a flash. I think there'll be more than just lawsuits to change it. I am very optimistic that we will come together again, and we will move forward, and our best days are ahead of us. But I'm not so naive as to think we can solve this problem by one lawsuit here, one Bar complaint there.
Do you think things will get better or worse in the short term, in terms of the amount of misinformation and disinformation after elections?
I think better. I think that a lot of the stuff we saw in 2020 was very chaotic. Some of the stuff we have seen in 2022 was a little bit more organized. Not necessarily well founded, but a little bit more organized. My fear is that this sort of thing becomes an industry and that if people can make a name for themselves or make money, then that's an incentive to keep doing it. Election contests are an important part of the law, but just suing for the sake of suing, and suing so you can say you're suing and then set up a defense fund and raise millions of dollars – that's not healthy for our society.